3 Great Climbing Tech Tip Sites You Shouldn't Miss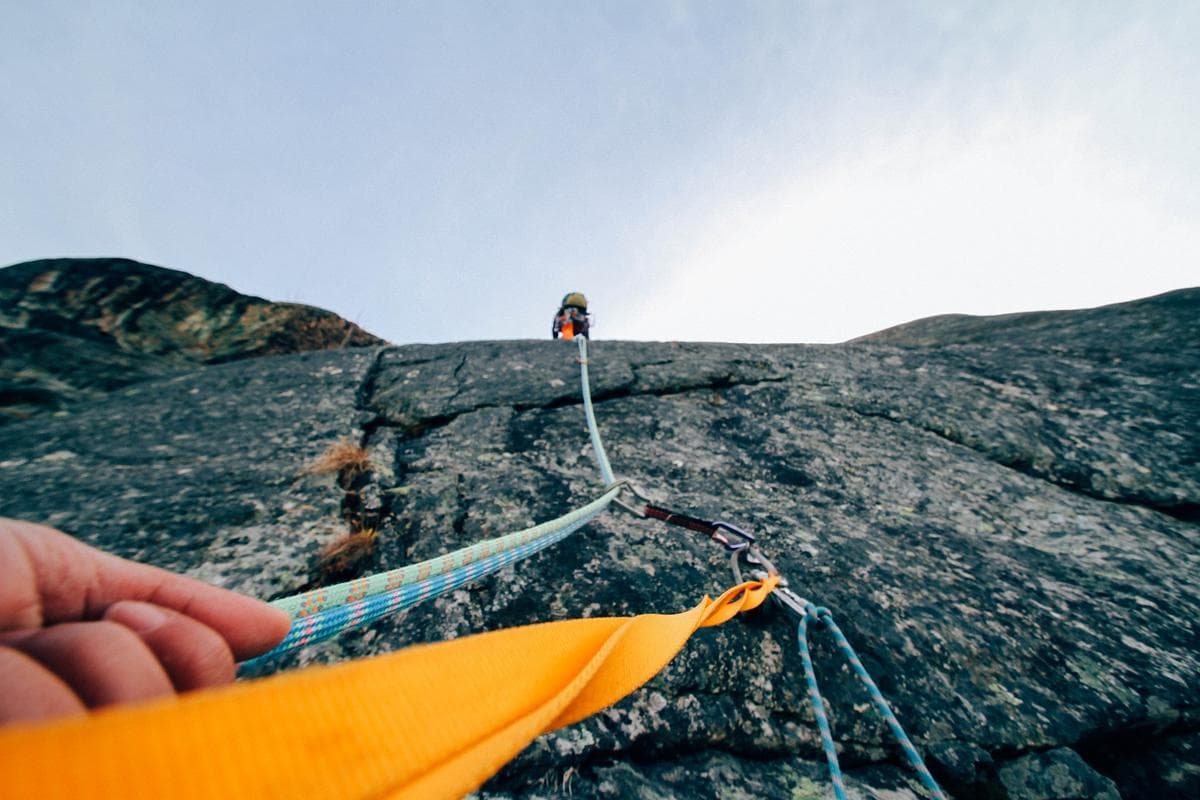 There are climbing gear brands who produce gear. There are brands who produce great gear. And there are brands who produce great gear but also great content.
Today we are looking at three climbing equipment brands who published awesome climbing tech tips in the form of ebooks, videos, blogs or interactive e-learning courses. All these three brands provide great content that promotes safe behavior and teaches safe techniques around rock climbing, trad climbing and climbing/mountaineering in general.
An important disclaimer: I have no affiliation whatsoever with these gear brands. It is evident, that the content published by these brands is part of their content marketing strategy and gives them the opportunity to place their products and increase brand awareness. But they also provide great and free quality content for you to learn to climb and improve your skills. It would be a pity to miss.
Without further ado let us look at my first recommendation:
---
Petzl tech tips and ACCESS ebooks
Petzl frequently publishes short but valuable safety tips and tech tips on various activities, including rock climbing, multi-pitch climbing, ice climbing, via-ferrata and many more.
Some of the tech tips feature its own products but are easily adaptable for similar products from competitors. For example, the article on "Belaying a second with the MICRO TRAXION = danger!" provides information on the use of its progress capture pulley Petzl Micro Traxion, but also concludes that belaying a second with a progress capture pulley is generally a bad idea (!) and is therefore also relevant for similar products like the Wild Country Ropeman or the Kong Duck. Other posts are completely product independent such as the article on proper "Partner Check".
The articles focus on specific topics or questions, are rather short and feature simple and comprehensible illustrations as already well known from the Petzl product manuals. Some of the articles include short videos, although mostly without audio and are therefore lacking a bit of the high-level quality provided by other instructional videos.
Check out the full list of tech tips at:
https://www.petzl.com/INT/en/Sport/Activities
In 2017 Petzl also started to combine and publish its best tech tips in ebook format which they titled ACCESS books. As of today, 4 books related to climbing and 1 book related to ski touring/mountaineering have been published. They can be downloaded for free at the Petzl website, although Petzl would ask you to provide your email address in order to receive the download link. Alternatively, you can use the direct download links provided below for each of the five books.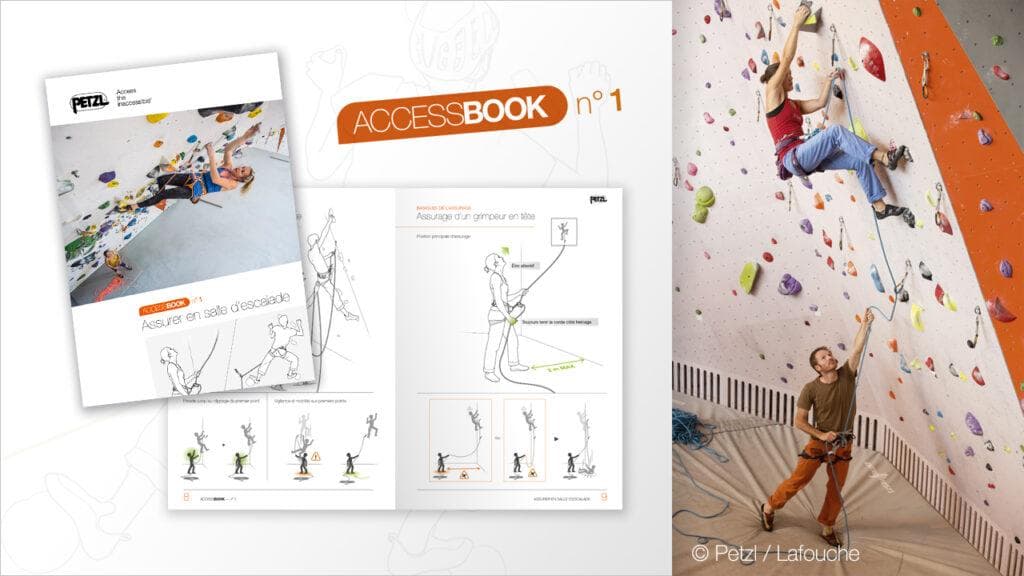 This technique guide focuses on gym climbing, for you to learn and/or review basic top rope and lead climbing techniques, including tying into the rope, the partner check, fundamental belay techniques, and how to clip the rope properly.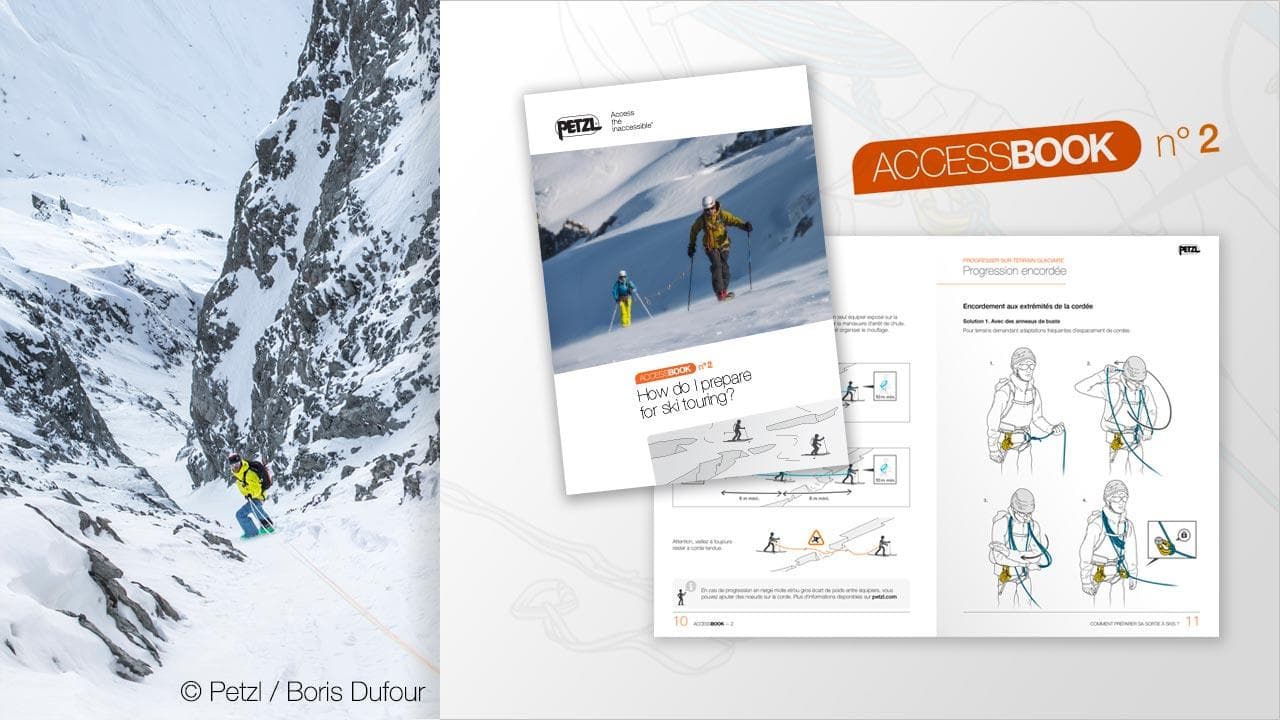 ACCESS BOOK #2: How to prepare and plan for a ski tour
This guide focuses on planning and preparing for a ski-mountaineering or backcountry tour, including tech tips on ice axe use, how to rappel, providing assistance to your partner(s), and glacier travel.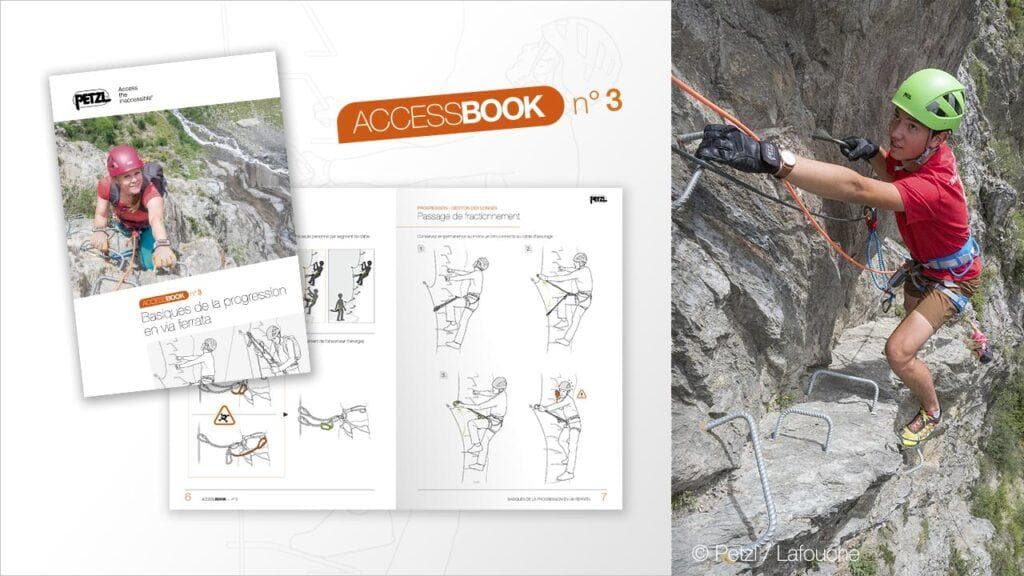 ACCESS BOOK #3: Progression basics for via ferrata
This booklet explains climbing via ferrata. Inside are tech tips on how to properly install your lanyards, check your partner, pass intermediate anchors, and stop to rest if you are tired.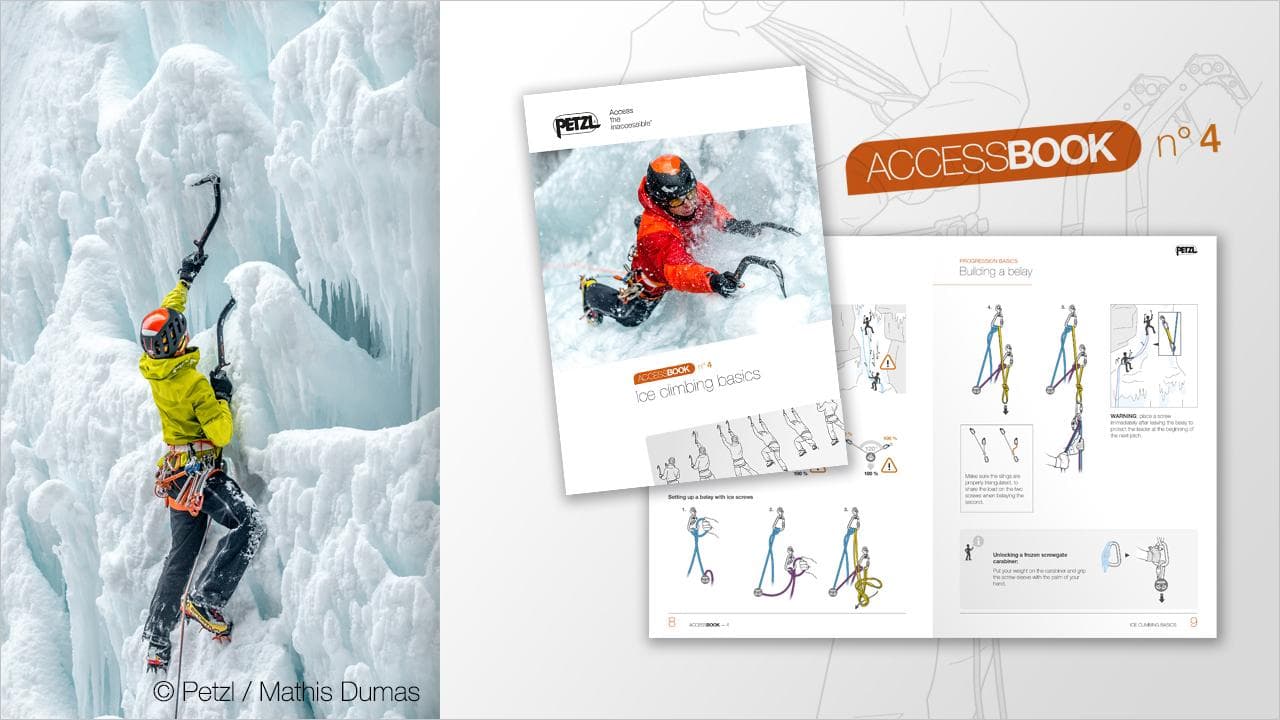 This fourth booklet is dedicated to ice climbing. We adress technical aspects of the activity such as equipment choice, ice screw placement, progression, building a belay or making a V-thread. What sets this activity apart is its environment: ice. Apart from technique, ice climbing requires significant experience to better understand ice quality and formation; this topic is not covered in this booklet.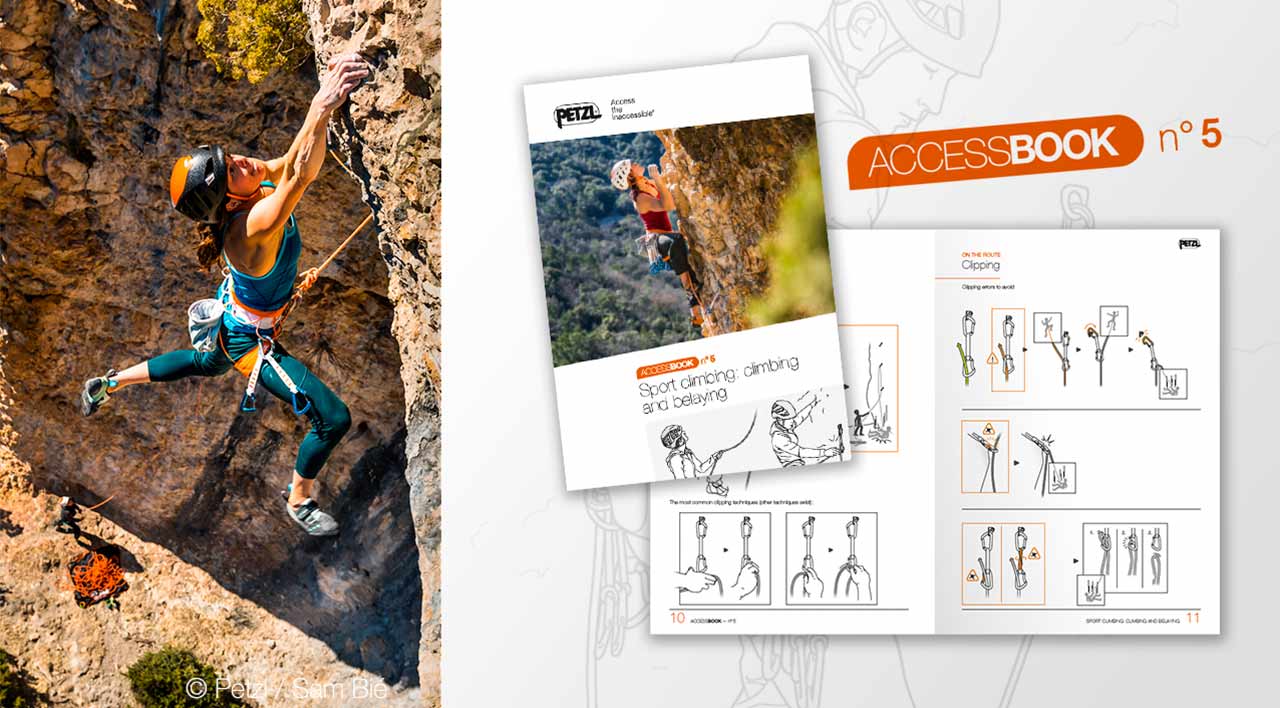 ACCESS BOOK #5: Sport climbing: climbing and belaying
Sport climbers or belayers: this booklet is for you! It covers the basics of sport climbing. What gear to bring? How to belay properly? Which errors to avoid while climbing? What is the sequence to set up the rope for lowering from the top of the route? What to do if I don't reach the top of the route? ...Find all of these tips in the ACCESS BOOK #5. This booklet does not cover multi-pitch or trad climbing.
The ACCESS books look really great, the content is well-arranged and they feature the same nice illustrations that are already known from the online tech tips and product manuals. However, the ebooks are rather minimalistic on explanations and descriptions. They are not self-explanatory and therefore definitely not suitable for a complete beginner. I can see the ACCESS books to be useful in two situations:
If you are a climbing instructor: Use the books especially for their great illustrations while you explain the concepts and techniques to your students.
If you are a new or intermediate level climber and you have already participated in technique courses: Use the book as an overview of the most important techniques and as a resource for reviewing techniques you have already learned during the courses. If you cannot fully remember the proper technique, check the Petzl tech tip site for the full article.
My rating: ★★★★☆
Good content, nicely illustrated, not necessarily suitable for complete beginners as not always self-explanatory
---
Black Diamond QC Lab
QC is Black Diamond's internal quality control laboratory. Every product undergoes numerous tests and checks in the lab as well as in the field before it is cleared for sales. During all these tests, Black Diamond earns a lot of experience about its products, its applied materials, and possible problems and limits of those. Fortunately, they do no keep these learnings a secret. Since years, Black Diamond publishes its most interesting learnings and insights on its QC Lab Blog.
The articles are written in a very accurate and almost scientific manner. Usually, they are centered around a specific topic or question, describe a lab or field experiment and include some sort of conclusion or recommendation, where the amount of sample data allows so. Normally, the articles are quite long and not easy to digest but nonetheless fun to read.
Are they suitable for beginners? I think not - unless you have some specific background in material science, product engineering or similar. The articles require you to understand many climbing concepts and jargon. Most of the articles end with some sort of conclusion or recommendation, but these conclusions might be difficult to assess properly if you do not have the necessary know-how and experience.
For intermediate level and expert climbers though, I believe these articles can provide valuable additional background information. The information might not come across as neatly and easily digestible as in a guide book. However, you will receive information that is often not covered anywhere else. Plus you get first-hand insight into the development and testing process of one of the biggest climbing gear manufacturer.
Check out all recent articles on the Black Diamond QC Lab blog:
https://www.blackdiamondequipment.com/en/experience-home?fid=qclab
And do not miss their archive which reaches back to 2009 and beyond:
https://www.blackdiamondequipment.com/en/qc-lab-archive.html
My rating: ★★★★☆
Well researched articles on specific topics and questions, fun read, not suitable for beginners
---
Ortovox Safety Academy - Lab Rock
In 2018 published the second of its digital learning platform, the Ortovox Safety Academy Lab Rock, targeted towards alpine climbers (the first course covers ski touring and avalanche safety, we will talk about this in a separate article). The learning courses can be accessed for free without the need to register, however, you can register if you want to save your progress and set bookmarks. The content is neatly divided into 4 chapters:
Alpine climbing basics and material
From climbing park to large alpine rock faces - this chapter provides an insight into the world of alpine climbing – starting from the subjective and objective dangers, to rock knowledge, through to the necessary materials.
Preparation and tour planning of alpine climbs
Carefully considered and realistic tour planning is an essential part of alpine climbing. This chapter covers selecting the appropriate climbing tour, the area and weather conditions, correctly reading a topographical map and properly packing a backpack.
Climbing knowledge and belaying techniques
The third chapter will familiarize you with fundamental knowledge about alpine climbing. Topics such as knot techniques, belaying and the use of anchors play a central role.
First aid and rescue methods
If there is an accident in alpine terrain, climbers need to act quickly, correctly and in a considered manner. The final chapter explains how climbers handle emergency situations.
All chapters have in-depth content guiding you through many important topics. They use videos, illustrated text, interactive content and smalle quizzes at the end of each topic. It is evident that the quality and amount of content is top-notch. All of the content was created in partnership with the German mountain and ski guide association (VDBS) and in collaboration with Ortovox's own professional mountain guides and athletes.
The content starts with the very basics of alpine climbing and is sufficiently deep but easy to digest even for novices. Just keep in mind that no book or e-learning can cover the practical experience, so participating in practice courses and learning from more experienced climbers is still a must.
But also for more advanced climbers: Do not steer away! I was especially impressed by the last chapter which covers first aid and rescue methods. Among various rescue methods, they provide best practice procedures in case of sunstroke, hypothermia, heart attack and many more. I believe that this chapter is highly relevant for climbers of any level and even experts can learn their fair share. Or did you recall by heart what to do in the case of an anaphylactic shock? Check it out, the amount and quality of provided information are truly amazing:
https://www.ortovox.com/uk/safety-academy-lab-rock/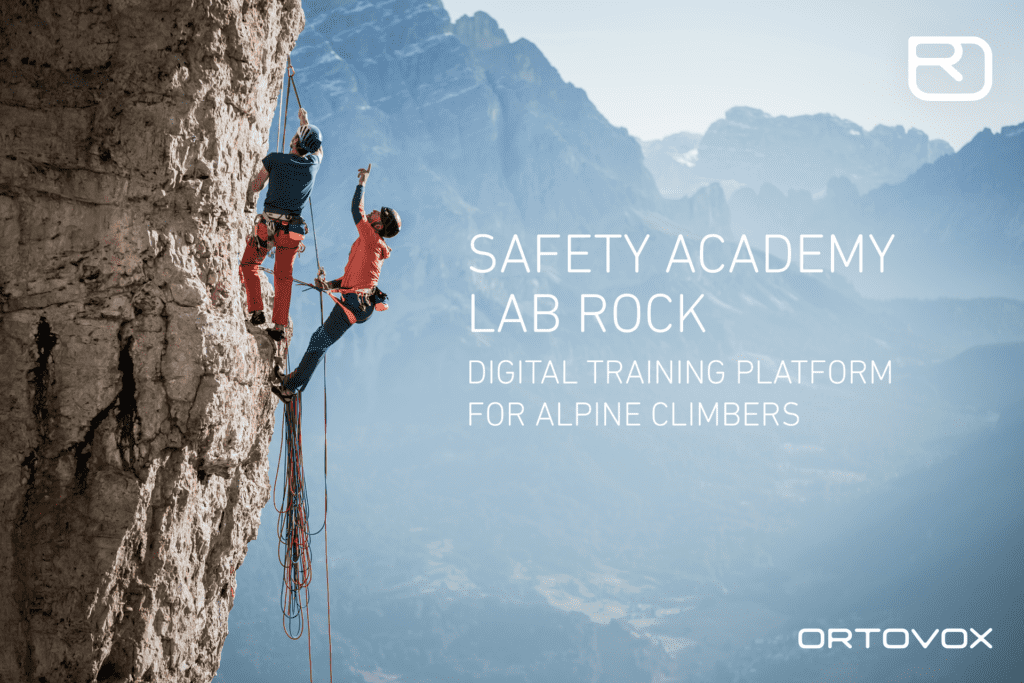 Ortovox also uploaded all the videos from the Lab Rock course. Check the complete Youtube playlist for an astonishing amount of 46 videos or watch the trailer below. If you are in a hurry, you will understand the main content by watching the videos. If you find the time, I would highly recommend though to go through the proper learning course linked earlier, as only there you will get the full experience with all the additional context and interactive content.
Last but not least, Ortovox published an accompanying eBook called "Safety Academy Guide Book Rock". They subtitle it with "Basic Knowledge for Climbers and Mountaineers". But just look at the table of content of this 48 page booklet: This goes way beyond basic knowledge only. It covers topics such as:
Weather in the mountains
Climbing ethics & environmental aspects
Equipment selection
Tour planning
Risk management
How to read a topo
Difficulty grades
Important knots
Belaying and rappelling
Building anchors
Lead climbing
Types of bolts
Rescue methods
... and the list goes on and on ...
This is real quality information covering all the major topics of multi-pitch trad climbing. It is nicely illustrated and has a good balance between text and illustrations. In terms of quality, this even exceeds many paid books - but you will get it for free. Check below link to read the ebook online. One caveat though: they do not let you download the PDF. I guess you would have to drop them a message in case you need a printed copy of this. (Update 2021-09-26: Download and print is now possible directly from the ebook)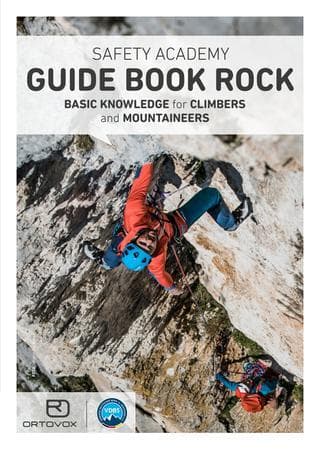 Read the full guide book online at:
https://www.ortovox.com/uk/safety-academy/training-tools/safety-academy-guide-book/guide-book-rock/
My rating: ★★★★★
Great content, nicely illustrated, suitable for beginners but still interesting for climbers of any level. A true must-read!
---
Did we miss any useful and great content published by gear manufacturers? Let me know via contact form.